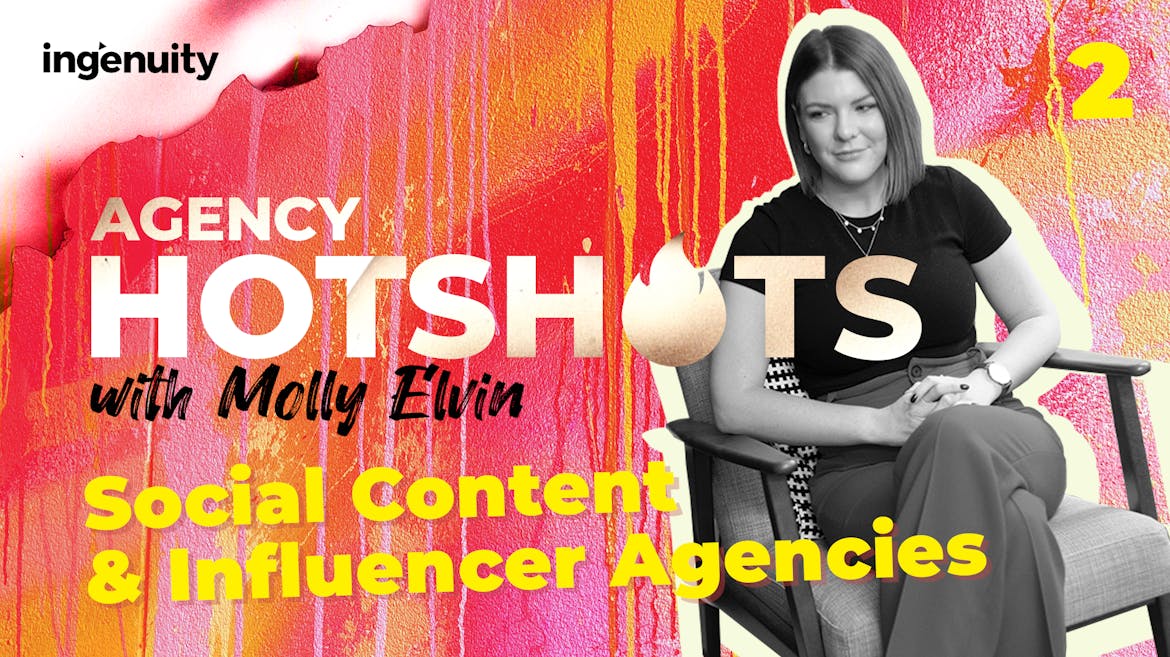 Social and Content Agencies leading the way
Molly Elvin
Social content and influencer world domination
When you search 'social media and content agency UK' on Google, you'll get roughly 6,120,000,000 results. That's a lot of zeros… and a tall order for any brand marketer to trawl through these results in the hope of finding that needle-in-a-haystack agency that'll help them create marketing magic.
With brands needing to fight Tekken style to cut through the noise with their content marketing strategy, it's no surprise that, according to Kantar, 70% of marketers are expected to not only increase their budgets in 2022 but reallocate their cash to social media, influencer marketing, and creative content.
As budgets return with a bang, household names are preparing to significantly increase and/or shift their sacred marketing spend, and we know that because, well, we get the briefs…
Being the middle(wo)man of the agency and brand world has its benefits
For anyone that doesn't know by now, Ingenuity sit slap bang in the middle of the agency and brand world; we help best-in-class, and up and coming businesses win their next new client via strategic B2B marketing and sales tools. We're also the fastest growing modern intermediary. We help brands find their perfect partners, be that agencies or other brands to create viral, award-winning campaigns.
We've seen an influx of briefs since the start of the pandemic and consequently we've pivoted our events businesses to meet this growing demand, having just launched our 121 matchmaking sessions in which we pre-qualify best in class social and content agencies to meet brands with live marketing challenges every month.
Shop local also applies in the agency world
This list highlights the hot shot social content & influencer marketing agencies. Not necessarily the huge network agencies that have social and content arms within their suite of services, but also the independent up and coming agencies that are home to the most creative social marketing wizards.
Here are my top players in the social and content agency sphere right now.
We Are Social – it's in the name
Known as the global socially led creative agency with an unrivalled social media ability, We Are Social create ideas, powered by people, with unparalleled knowledge of social trends and platform best practice: accelerating a brands online presence. A noteworthy mention is their recent work with LEGO. The brief was to create a LEGO clothing store, the catch… it had to be virtual. How do millennials and virtual clothing stores meet in the middle? Snapchat, the posterchild for millennials. LEGO collaborated with Snap on this campaign and the results were epic, bringing in 18m impressions and 233k swipe ups to site, over the campaign period.
Global social first agency – Wilderness
Wilderness are social conversation specialists, all about helping brands connect with communities at scale in the most authentic way. These socially and environmentally conscious, LGBTQ champions, showed us they're red-carpet worthy with their partnership with MGM for the digital release of the latest Bond film. They brought Sir David Attenborough to TikTok – supplying a direct line to Gen Z for the first time on the world's most downloaded app. If you're a GOT fan, thank Wilderness for running HBO social channels to create buzz across the final season here in the UK, creating 80 million positive social impressions whilst combating angry fans demanding a rewrite. No comment.
OK COOL is flaming hot on the scene
Hot on the scene (contrary to the cool in their name) this agency is one to look out for. Known as official creative consultants on Tik Tok, Instagram and Facebook as well as specialist social media partners to many of the world's leading design and branding agencies, OK COOL has developed a reputation for their ability to humanise brands, taking them out of category and into culture. One of their stand-outs is their ability to manage brand-building through platforms that intentionally promote chaotic evolution. They've worked with leading brands such as: NIKE & JD, Bumble UK, Taco Bell and MY/MOCHI just to name a few. I talk to agencies all the time about practising what they preach. Claim to be a social-first agency? Your last Instagram post better not be dated 2019. So, OK COOL get the stamp of approval with their own in-house Tik Tok studio. Check out here: https://www.okcool.io/.
The influence of Billion Dollar Boy
Billion Dollar Boy (BDB) set trends in the world of specialist influencer marketing. Driven by data and fuelled by creativity, they elevate the impact that content creators have on consumers in the world of advertising. This agency knows what it takes to remain relevant to millennial and Gen Z audiences, working for household names such as BMW, Boots and L'Oréal. One of their notably successful campaigns, launched Nespresso's new World Explorations 2021 range of Lungo coffees. BDB partnered with fervent, coffee-drinker influencers from around the world, who played check-this-out tour guides in each of their home cities, whilst sipping on that must have cup of coffee. Awareness was the goal, and they delivered, with a whopping 9.5 million impressions from just 6 influencers.
Impero, the creative agency that knows
The creative and social agency whose work made it onto Nick Grimshaw's radio show are a top choice for impatient brands who are looking to re-invent themselves and steal back market share from competitors. With a particular focus on the next generation of consumers and Youth audiences, Impero know a thing or two about Gen Z and millennial trends and have helped household name brands such as Ugg, Dr Jart (Estee Lauder) and AB Inbev. Their most recent work with George at ASDA, who met Impero at one of our matchmaking new business speed dating events, helped the brand develop cultural credibility, with a back to school ad that went viral. We've been fortunate to work with Impero for a number of years and this list isn't complete without this team of social and content masterminds.
Nameless social ghost-writers with blacked out display pictures on LinkedIn and no 'meet the team'. Their work speaks for itself. I feel like I shouldn't say anything… just check them out.
That orange (and purple) GOAT  
Labelled as Adweeks #4 fastest growing global agency. This cute farm animal is a global social media powerhouse. Run by influencers, they "bring together data-led performance, real human relationships, expert creative strategy, authentic engaging content and laser-sharp paid media targeting." Their key objective, simply put, is to get real business results for their clients, using what they know best – social and influencers. It would be remiss not to mention their campaign with UberEats, in which they raised awareness of Starbucks delivery through the UberEats app and got people talking about their #RedCupReason. Gifting coffee to a special someone at Christmas became cool overnight thanks to GOATs work. Their campaign success included 5.4m impressions, over 2k code redemptions and 2.7k Instagram views, making them the GOAT of social media and influencer campaigns.
Little bit of  Paradise
Paradise is a rare breed of agency. Through their ability to come up with the big creative ideas and translate them into entertaining content, they repeatedly deliver creative campaigns that hold the attention of audiences. Trusted by Bacardi, Hayu, and Coca-Cola, their work elevates brands on social and allows them to embed themselves directly into the cultural zeitgeist.
While they help their clients at every stage of the creative content process (from strategy to production), their skillset doesn't stop there – they are also specialists in the production and distribution of merchandise, working with global brands to produce bespoke products at scale.
Get your Engine ready
We all know what a creative powerhouse Engine is and the legacy that they uphold; but, specifically the reason they're on this list is down to the brains behind NGN LABS. Engine launched their social counterpart, described as "a social-first creative practice designed to offer agile growth solutions for new and existing clients via its team of in-house creators, and external network of cultural specialists, editors and influencers", to cement their position in the social, content and influencer world. And they've done exactly that. Having worked with Engine over the years, we've been fortunate to see the evolution of the business unfold, and I'm excited to see what's next. Very honourable mention.
With McCann (LIVE!) you can
You can't have a list of accredited creative and socially led agencies without mentioning one of the OG's in the game. McCann are responsible for creating some of the most iconic ad campaigns to date but let's not be mistaken, our spotlight rests firmly on McCann LIVE. They are the social media and content production team born out of McCann and housed in McCann Manchester. If you're googling social and content agencies, you may not find them, but, trust us, they have a team of social gurus that are good enough to make any brand famous. The success of McCann stems from their never-ending ambition to stay on top of future-facing macro trends and incorporate the needs of their consumers in every piece of content they produce.
SRSLY SOCIAL Digital Natives
Winners of Small Content Marketing Agency of the year, this London based agency is making waves in the social and content world. Their mantra is don't steal, shout and demand brand attention… deserve it. Whether you're a start-up or scale up, Digital natives applies social first thinking to deliver better results for big names such as GU, Dermalogica, Fitbit and Yankee Candle. Their co-founders Alistair Fitch and Oliver Elmes are passionate about driving forward the sustainability agenda, diversity and inclusion and are generally, all round great guys to work with.
Putting the cool in Coolr…
Being named EMEA Digital's Agency of the year and winner of large social agency of the year, speaks for itself. This independent social media agency is on a mission to reinvent water cooler moments for the digital age – hence the name. They combine big agency thinking with the speed and agility of a social publisher. Their biggest campaign to date, stemmed from a simple tweet by a not so simple man… Kanye West. He claimed McDonald's was his favourite food, and with Burger King being Coolr's client, Coolr knew what they had to do… Check it out here. Brilliant.
Ingenuity is the fastest growing modern intermediary and business development consultancy. Having been at the forefront of business development for the past 17 years, we've disrupted the market like no other, creating an B2B Events business, developing a Brand Partnerships division, and running 160+ pitches annually – all of which have helped us get closer to leading brands, and senior marketeers to truly understand their challenges, ambitions and subsequent agency requirements.
We're always looking for the best agencies to work with. If you feel your agency deserves a mention in our next agency hotshots, get in touch at molly.elvin@ingenuitylondon.com.
Subscribe to Ingenuity's content hub
Receive the latest interviews, insights and trends straight to your mailbox.
Want more content?