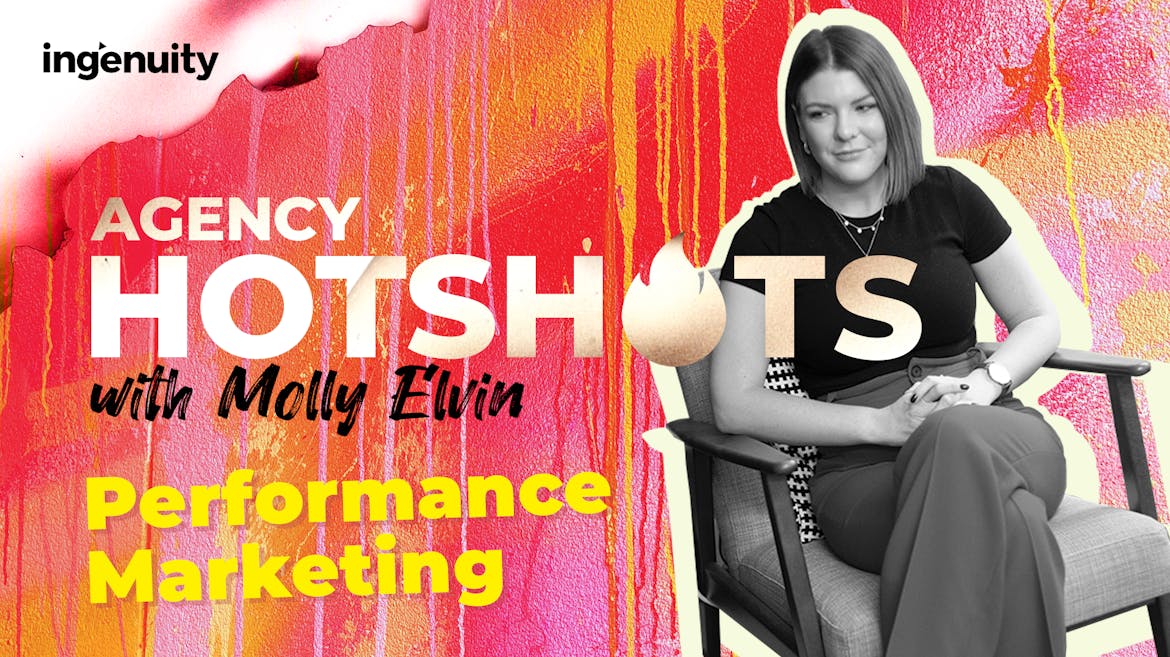 The performance marketing agencies leading the way post pandemic
Molly Elvin
"We underestimate as a business the value of the 160+ annual pitches we sit in on, the thousands of agencies and brands we speak to and the insight that comes with that…" 
For anybody that isn't familiar with Ingenuity, we turned 16 this year, and feel very lucky to have grown the team to 70 brilliant business development, marketing, PR, digital & content experts. Whilst we've come from lead generation origins, and that service remains at the heart of our business, we're so much more to both agencies and brands.  
Having been at the forefront of business development for 16 years, we've disrupted the market like no other. We've developed a B2B Events business, a thriving Brand Partnerships division, and we've also become the fastest growing modern intermediary – all of which help us get close to leading brands, and senior marketeers to truly understand their challenges, ambitions and agency requirements.  
Whilst we are still the best in the business for strategic sales and marketing for some of the UK's best agencies, we're also able to give our clients direct access to some of the most exciting pitch opportunities happening in their world.  
Welcome to Agency Hot Shots 
In my role, I'm fortunate enough to spend most of my time meeting with agencies of all shapes and sizes, talking to them to understand their biggest challenges when it comes to new business – and identifying whether the hurdles to them winning their dream clients is an awareness, consideration or conversion issue.  
Hearing 100s of agency propositions, case studies, client stories and industry gossip each year, coupled with the fact that as a business we run 160+ pitches annually, and meet 100s of brands looking to find new agency partners at our speed-dating events, I wanted to create a series that gives an honest view on the agencies to watch – not just the global beasts, but the up-and-coming boutique shops biting the ankles of the network giants.  
There is no rhyme or reason to the following, it's an eclectic mix of those that deserve recognition because they're consistently performing for clients, new and old.  
First up, Performance… 
Over the past few years, performance marketing has really come to the forefront, catapulted by the pandemic and the shift in marketing budgets from traditional OOH and TV advertising. At Ingenuity, we've witnessed a significant evolution of agencies over the past few years – agencies that have failed to embrace technology, ecommerce, or lacked focus on customer, have struggled. Similarly, we've seen brands shifting budgets to Amazon, Social Commerce, Marketplace and so on. Agencies have had to shift their expertise (and media spend) to accommodate.  
Naturally, shopper agencies and experiential driven businesses have suffered due to the pandemic, though there's been some stand-out agencies in that space that shifted their service offering to embrace the aforementioned and meet changing consumer demands. Across the board, creative, digital, brand experience and so on have had to diversify and adapt to the rise of the distracted, multi-screen consumer.  
What I'm really intrigued by, are the agencies that have managed to crack the sweet spot when it comes to creativity and performance… 
ROI makes the world go round; everybody wants to prove the value of their campaigns and outputs. Yet, there are only a handful of agencies out there that have managed to crack the sweet spot when it comes to sh*t hot creativity and robust performance.  
It would be naïve to consider the agencies in isolation, as it coincides with a new era of talent, and a new generation of marketeer brand-side. Legacy brand leaders are comfortable (and quite rightly) with big creative ideas, and ATL campaigns that generate buzz. Whereas millennials have been passed the baton (and budget) and the next generation working brand (and agency) side are socially savvy, digital natives – think Ben Francis, CEO of Gymshark, or Umar Kamani, CEO of PrettyLittleThing who set up the fast-fashion retailer at just 24.  
So, here are my (in-no-particular-order) top players in performance marketing right now… 
Search first creative agency, Rise at Seven  
They call themselves a search first creative agency and set up shop just two years ago. With 100+ employees and offices in Manchester, London, Sheffield, and Chicago this fast-growing global performance agency was set up by two digital natives, Carrie Rose (Co-Founder and CEO) and Steven Kenwright (Co-Founder and Technical Director) – both of whom have performance backgrounds.  
They've very cleverly created a proposition that leans on the synergy between performance and creative contextual trends such as meme culture. The team are all digital natives and understand the millennial and Gen Z target audience most brands are scratching their heads trying to build chemistry with.  
They're challenging the typical creative model, performance and hiring strategies. Specifically, they hired Thea Lauryn Chippendale star of ASOS' PR stunt. Thea was invited to model for the fashion giant after being trolled on Tinder. She matched with a guy who unfavourably said that her ASOS outfit wasn't 'doing her any favours', so ASOS decided to use her profile picture as a promotional shot for their website. Rise at Seven caught wind of this, realised she was studying digital marketing and swept her out of the eye of the social craze storm into their agency… it's a match!  
For anyone that follows Rise at Seven on social, you'll quickly see that they practice what they preach. They market themselves well, with a thriving YouTube channel, relevant posts on LinkedIn, and active social channels. In the virtual world, in which brands are appointing agencies without ever having met them, your agency 'shop window' is more important than ever.   
Grown up shop, Reprise 
Reprise are the hot-shot digital agency within IPG Mediabrands, and have done well over the last couple of years positioning themselves outside of the agency network. They've taken real ownership of the brand and have been delivering brilliant work in the performance and creative content space.  
This grown-up global shop, work with some heavyweight brands across strategy, search, SEO, social and analytics. They cleaned up at the 2021 Drum Digital Advertising Awards in the Retail, Ecommerce and Consumer Goods category, for their innovative piece with Lego, and from a pitch POV, we've seen first-hand that the team consistently deliver. 
 
New omni-channel media giant, Assembly Global 
Next up, ForwardPMX and Assembly Global have recently joined forces to bring an omni channel media giant. Operating under the Assembly name, the joint agencies promise to deliver a market-leading media offering. Their 'technology, data and consultancy capabilities are built to transform and grow brands' businesses worldwide' and with over 1,500 data driven minds in over 20 countries and 30 locations across the globe, it's no wonder they consistently win work in the performance space with big brands such as Nike, Ralph Lauren and Adobe. 
Independent, agile and nimble, Roast  
Roast are an independent agency that sit under the umbrella of holding company TIPI group, also home to web design and build agency Kitty, and voice activation experts Rabbit and Pork (yes, that's their name!). They're a small, agile team, though I couldn't write this list without a special mention to them, since they've single-handedly transformed the bottomless brunch search in London. Roast built an interactive map of a variety of different bottomless brunch options which you can filter by time spent there, location, value for money, diversity of menu options… and most importantly, a cost per refill metric. Bravo, Roast. 
Making advertising work harder, Tug  
Now we move onto Tug – with a global footprint (offices in London, Sydney and Toronto) Tug are another advocate for bringing together media, creative and technology to deliver outstanding creative campaigns that perfume across channels. They've built a cohesive and complimentary suite of services within the agency and their clearly defined structure – from SaaS performance, in-house services to international expansion – makes them easy to buy, something we consistently encourage agencies to do. Their team consists of PPC and affiliate marketing experts to content creators and creative strategists who are all about making advertising work harder.
Fastest Growing Agency in Europe, Journey Further  
Journey Further were recently awarded the fastest growing agency in Europe, an accolade given by Adweek. Considering we've all endured a global pandemic over the last 18 months it's an impressive win. They consistently score highly when it comes to best places to work, and like Rise at Seven, they really practice what they preach in terms of their own marketing outputs. They get the 'brand as an agency' concept and use that to their advantage. As for performance they're all about driving performance at speed.  
After recently getting their claws into the holiday season with retail win from Portmeirion Group, I'm looking forward to seeing their video led Christmas campaign and will be keeping a close eye on other agency Christmas client wins hitting the press in the coming weeks. 
Built by founding member of Social Chain, Buddy Media  
Next up – Buddy Media Group. Buddy Media was set up by one of the early employees of social giant, Social Chain. Sam Budd handled scaling the business overseas, fast-forward a couple of years, he's now set up his own influencer and student focused performance agency. Given the fact that Sam cut his teeth at Social Chain, renowned for their dominance of the student market, it's no surprise that Buddy are experts when it comes to Gen Z and the varying demographics that surround them. They've worked for the likes of Spotify and Apple, and are all about data driven performance. Most recently, combining performance marketing with a social first influencer strategy for FarFetch, they've developed a unique offering that maximises results, growth, and delivers actual ROI. 
Part of the MSQ family, Twentysix  
Twentysix (part of fast-growing group, MSQ) was set up in 2005 and have since grown into one of the UK's most respected digital marketing agencies, working with the industry's top talent to transform businesses and nurture growth. The Twentysix team take a joined-up approach to technology, creative and media but underpinning everything they do is data, insight and strategy – it's how they figure out outcome-focused strategies for their clients, some of whom have worked with them for over 10 years. They define data-led digital strategies for the likes of P&G, Arla, Asda and GHD – and don't just take my word for it, they've ranked No.1 in The Drum's Elite 30 digital agencies. 
Campaign's Global Performance Agency of the Year, Croud  
An avid member of our physical, and more recently digital, new business speed dating events, Ingenuity have witnessed Croud's strengths first-hand when it comes to pitching in the room. Their ambitious team connect data, technology and creativity to drive business performance for ambitious brands such as Avon, Vans and Frontier. Campaign recently awarded Croud's business model, creative use of technology and audience selection tools with the Global Performance Agency of the Year title. In addition, their commitment to diversity and inclusion is setting the standard.  
Proudly independent; specialist, Builtvisible 
This organic digital marketing agency works with household name brands such as Very and Feelunique to deliver – now this is a claim – 'the most meaningful agency experience in the world.' Specialising in retail, travel, ecommerce and the financial services sector, Builtvisible's aim is to drive loyal customers and make a real-world impact on their client's top line. Builtvisible value their people, and are leading the way when it comes to representation within the boardroom, with 66% of their c-suite staff being female.  
No "business as usual" here, Jellyfish 
Jellyfish are opening brands eyes to the world of opportunity that performance marketing provides across the globe. Transforming the way traditional household name brands think and work, Jellyfish call for marketers to embrace the "relentless effect of digital". They help brands such as Disney, Spotify, Uber and Ugg find their platform to perform and, rightly so, their work is centred on data, reach and consumer relationships. This cross platform, cross country agency is one I have to champion, and with their recent announcement about the launch of two new hubs across EMEA and Europe, world performance domination is increasingly possible. 
Test and learn experts, Brainlabs 
Last, but by no means least – Brainlabs. It wasn't so long ago that the small founding team attended one of Ingenuity's speed-dating events, and at that point in time, the entirety of Brainlabs were in that one room. But the Brainlabs team have since experienced an incredible growth trajectory, with 600+ team members globally. Having acquired a number of agencies in recent months to strengthen their offering, most notably, Molzi, to build on their Amazon capabilities, it was also reported just a couple of weeks ago that ex-Mediacom boss, Stephen Allan, will be joining Brainlabs to further drive global expansion. Now, I haven't said much about their performance ability, but I think the above speaks for that better than I ever could. 
 
Ingenuity are one of the fastest growing business development consultancies and we want to work with the best agencies of all shapes and sizes. If you feel like you deserve to be called out as an agency hot shot, be it on this list or to the brands we work with, we'd love for you to get in touch to see how we can partner.  
Subscribe to Ingenuity's content hub
Receive the latest interviews, insights and trends straight to your mailbox.
Want more content?