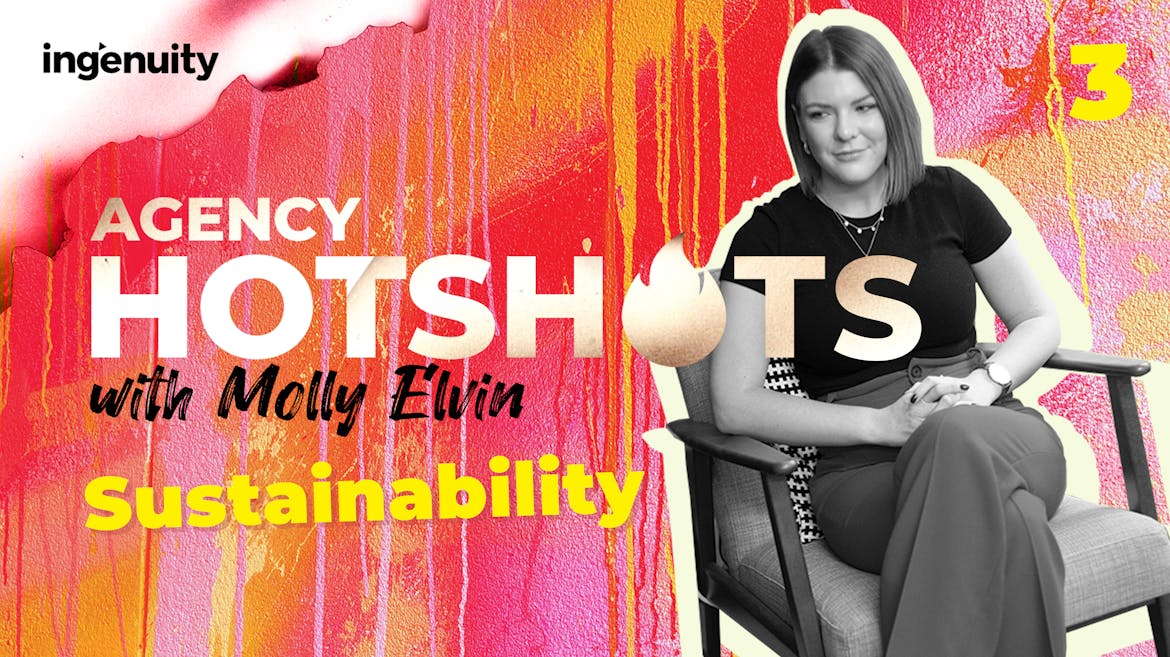 The top agencies for your next sustainability campaign
Molly Elvin
It's 2022 and consumers are savvier than ever...
Customer affinity to a brand is no longer centred on brand look and feel, as we begin to care more about who we give our cash to, than what we spend it on.
Our affinity to a brand is measured in its purpose, values, and meaning. Customers want to buy into brands that are good for people, good for the planet and good for society. One of the hottest topics around for brands and agencies alike is sustainability, a word that encompasses so much more than the environment.  
Take the fashion industry for example, whilst there are still strides to be made, statistics show that 67% of consumers now pay attention to the environmental impacts of their clothing, aiding to 60% of consumers now stating they've put in a heck of a lot more effort into reducing and recycling. And whilst the 'say vs. do' gap is ever-present, it's a slow but sure win for sustainability.  
Even if there's evidence to say a brand cares, marketers still tread on eggshells at the thought of being labelled a green washer when it comes to activation. The criticism a brand might face from consumers who believe their sustainability efforts are inauthentic can have a huge negative impact on sales. We've all seen the social backlash from digital natives who believe CSR messages and activations seem little more than an attempt to show that a brand is doing the right thing vs authentically joining the cause.
To be a brand with sustainability at your heart, you must be the right thing. It's about developing a sustainability message that is rooted in something purposeful. Something meaningful. 
A petrifying visualisation for you before we begin - a live calculator of the world's population, resources extracted and tonnes of waste dumped - mind blowing.
Brands want agencies to get their activation right  
Since we launched our series of sustainable masterclasses last year on things like Green Friday and sustainable shopping in the run up to Christmas, we've had an influx of brands that have come to us to find an agency to help them get their activation right. And seeing as though it's Earth day, we thought we'd continue to service the needs of brands that want help articulating their sustainability commitment with the right agency, with this list.
Important to note that brands are not simply seeking agencies with sustainability credentials, experience, or ambitions. They want to engage with agencies that have CSR and sustainability in their DNA. Not "yes, we can probably do that", but "yes, we are that". 
These are those agencies: leading the charge, delivering purpose-led sustainable creative, comms and strategy.  
 In no-particular-order...
The sustainable comms and creative branding stylings of Earth: 
First off, with their core inspiration being our planet's perfect equilibrium, Earth, (aptly named), believe that the eco-system of business and society is much the same, needing a constant value of exchange to grow stronger. With their tagline being Sustainability. Unleashed. It would be remiss not to put this agency on our list. With 10 new clients, 36 clients helped, 200 trees nurtured, 4000 kilos of CO2 sequestered, and 72 countries reached, it's no wonder Earth stood out as a recommended go-to partner.  
Accept and Proceed: If you dare… 
With a radical name, comes radical ideas and radical people. Accept and Proceed are in the business to eradicate radical change. One of their notable take-aways is that they're a B-Corp business, that is legally required to consider the impact their decisions have on their team, clients, suppliers, community and most importantly, the environment. While they work with an array of note-worthy brands that inspire change, they also have a Podcast called Endless Vital Activity, where founder David Johnston explores the minds of radical thinkers, artists, scientist, and activists on the on-going problems we face, immersing themselves in each other's minds to understand how to re-imagine our world.  
Planet Shine: literally puts the shine in Sunshine 
Planet Shine goes full force in making the planet a better place, with a focus and commitment on halting climate change. They work with brands at the apex of planet preservation and sustainable activism to bring their sustainability voice to life. Brands like Quorn for example - they recently launched their Protein Pioneers film which documents the most incredible story of how Quorn Foods came into being. Truly one of the most authentic and innovative brands in existence! Check out their highlights from their COPtimism event here. 
When the aim is quite literally in the name: Fortitude 
A fitting name for a company that literally shakes the forefront of matters that need to be spoken about. Fortitude is yet another note-worthy creative sustainability consultancy, with the aim here to equip clients to turn ambition into action, to show them that to make a big impact you need an open-mind, to break the barriers of communication between what's safe to say and what is right to say. Set up in 2015, Fortitude was created to inspire brands with the unexpected and to take that leap on being the voice of change, where no one else was.  
Revolt: where actions speak louder than words  
A company built on actions over words, Revolt leads the way in making sure brands stay accountable for actually putting their words into action. This global brand consultancy utilizes a prototyping approach that has helped many of the world's leading companies, brands and non-profits leave a positive impact. Take their work with BUDWEISER for example, reiterating their commitment to making the world a better place, with an Earth day Campaign aptly named "Together We Can Turn This Around". The centre piece to the campaign was a film featuring a reversible poem – one that painted a picture of doom and gloom when read from top to bottom but turned into a message of hope when read in reverse. As they say at Revolt "THE MOST SUCCESSFUL BRANDS OF TOMORROW WILL BE THE ONES THAT TAKE A STAND TODAY." 
Giving brands a purpose is a Given: 
Certified BCorp, Given, is all about brands and its consumers uniting and build their future, together. Their passion lies in working collaboratively with ambitious teams in leading brands, to progress their purpose, create purposeful change and make purpose powerful. They achieve this by meticulous strategy setting, avid change making and elaborate storytelling. From their work with IKEA exploring the role of Mental Health at home, to their monthly newsletter "Good Enough to Share", these guys are worth checking out.  
GOOD work GOOD life: 
Another highly recommended agency to watch - GOOD, a purpose driven business out here doing the GOOD work - pun absolutely intended. They're a 25-year-old independent, award-winning creative agency, with 50+ employees who, are fighting the good fight. Their work with charities across a wealth of different causes, from cancer to cat welfare, from water to waste, ensures their impact on the marketplace and their work with brands ensures real value from purpose. With the charitable bee in their bonnet, they've also worked on projects addressing every Sustainable Development Goal set by the UN and helped global and national brands define and embed purpose to create real value. All in all, a GOOD place to start if you're looking for valuable sustainability and your voice to be heard.  
The Elephant room: Shaking the core of brand inclusivity  
Where 2020 saw a shift in humankind thinking and behaviour, it prompted the world of marketing and advertising to do the same. The Elephant Room are one of the leaders in this regime shift though have been in the game much longer, recognizing that brand inclusivity is the way forward and brands will simply become redundant if they don't change their strategies and become more sustainable. Essentially, "An inclusive brand gives just as much thought to the needs of people and the planet as it does to the profit it needs to make." They practice what they preach, too.  
MSQ: Coining the term "Emotional Capital" 
In a world where everything is ever-changing and new norms come into play daily, the only way to respond to the countless twists and turns we all come across, is to be completely resilient and responsive (especially when it comes to sustainability and including that into their strategies moving forward). Cue MSQ, an agency that's coined the term "Emotional Capital", this is your brands bank balance, and in short, the more you have, the closer your relationship with consumers are. MSQ builds bespoke teams of multi-disciplinary experts, informed by powerful data-driven insights, delivering consistent and connected brand experiences for every single one of their clients. These clients include, Barclays, DIAGEO, Coco-Cola, Cancer Research UK and Royal Mail, to name drop a few. Check them out. 
Media Bounty: putting the bounty into environmental cores and values 
We can't begin to talk about genuine sustainability focused agencies without mentioning Media Bounty. Dubbed THE "integrated ethical creative and media agency, this is a team that practices what they preach, and the believe that environmental and social innovation truly drives business performance. From working with leading lights in the sustainability space, to future facing organisations that are helping shift the world to a sustainable economy, ambition and reality in brand aims is key – green washers can get in the bin! Working alongside an incredible array of brands such as Terry's, KIND, Bodyform and Meatless Farm Co., Media Bounty are stalwarts in doing work that makes the world a better place. If one campaign is worth your time, check out their COP26 work – buying up media space 12 months prior to the event to prevent greenwashing and hold governments and organisations to account. Oh. And they LOVE bees 
Humankind: where reputation is top of mind 
In an increasingly digital world, human storytelling has never been more important for connecting with people, this is where Humankind shines through. Working hand-in-hand with their sister agency, Fanclub, they connect their clients with consumers through carefully crafted stories, opinions and experiences. One of their core outputs is to move from human to kind- an aptly put synopsis of their name. They stay on top of their game by never resisting change and staying resilient in a time here everything is every-changing, never faltering their core values and beliefs. Definitely not one to miss.  
And there you have it!
The world has become increasingly open to change, which means the more change there is, the more impact there is to consider. To stay on top of change, you need to let go of what you once knew and embrace the sustainable ways of the world. The world is moving in a direction where people want to leave it in a better state than when they found it. These agencies are at the forefront of making sustainability happen and we LOVE to see it.  
Ingenuity are one of the fastest growing business development consultancies and we want to work with the best agencies of all shapes and sizes. If you feel like you deserve to be called out as an agency hot shot, be it on this list or to the brands we work with, we'd love for you to get in touch with molly.elvin@ingenuitylondon.com to see how we can partner.
Subscribe to Ingenuity's content hub
Receive the latest interviews, insights and trends straight to your mailbox.
Want more content?