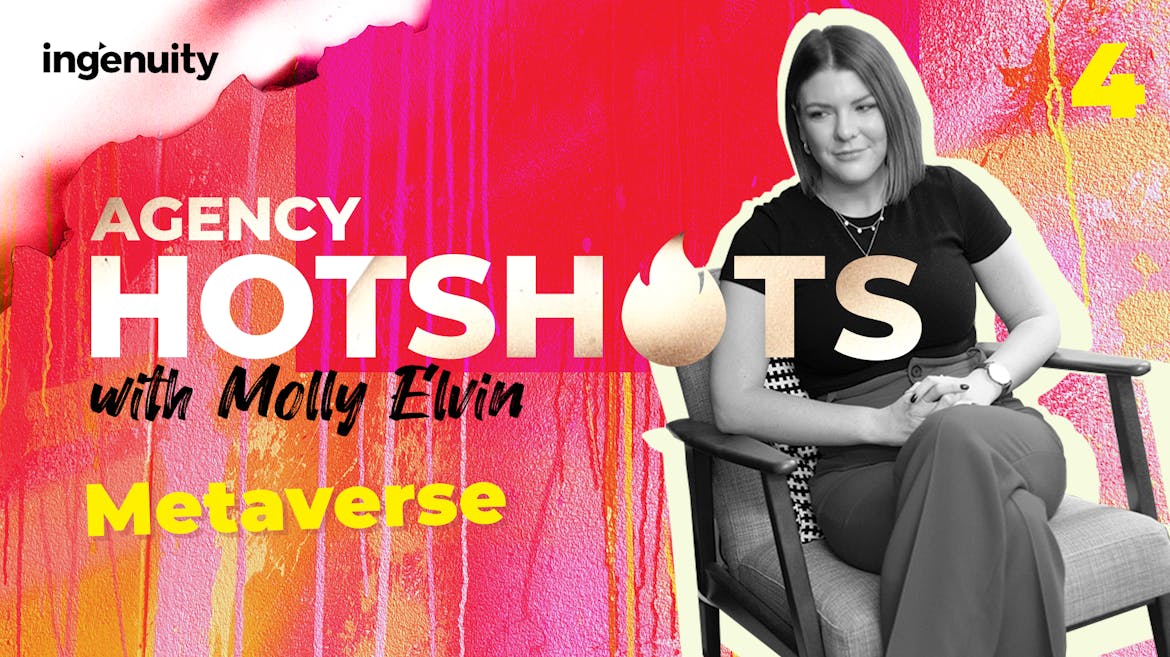 The Top Agencies Building Brands In The Metaverse One Year On 
Molly Elvin
365 days ago, CEO Mark Zuckerberg introduced Meta to the masses. Can you believe it's been a year?  
I imagine it was at some point between the infamous Connect 21 announcement and the subsequent tidal wave of news and social activity that followed, that brands across the globe permeated into urgent boardroom meetings to frantically map out this new world of digital opportunity. One year on, brand activation is at an all-time high: it's still the latest shiny new dollhouse for brands to play in.  
Leading the way with highly immersive individualised activations are household names such as Lego, Nike, Disney and Hyundai. And whilst savvy CMOs across the globe treat the opportunity to run an immersive brand experience in this digital realm like a modern-day NFL ad slot, forward-thinking entertainers compete to rock the latest half time performance – hey, Ozzy Osbourne.  
When it comes to the brains behind these activations, know-how hires are crucial. It was announced this week that Gucci have appointed a "Head of the Metaverse" and, according to an in-depth survey from Sitecore, 81% of marketers are creating a new role within their team to co-ordinate all metaverse matters. It's no secret however, that it's the agencies who specialise in digital innovation, whose creative ideas are only limited by their imagination, that live and breathe the next iteration of the Internet and have done before Web3 was cool. As brands continue to open their eyes to the business impact that immersive technology can deliver for their bottom line, and hire accordingly, these agencies are, very rightly, in high demand.  
So which forward-thinking agencies should marketing teams and procurement professionals have their eye on? As part of my Agency Hotshots series, that talks Top 10 agencies in Sustainability, Social and Content and Performance, here are my Top 11 Metaverse Moguls for your perusal.  
The top agencies for your next metaverse brand activation 
Powered by Vice, Virtue are the brains behind the world's first gift-filled NFT - The Friendship Box - launched on international friendship day for Coca Cola. Proceeds from the NFT, over half a million dollars, were donated to the Special Olympics - a true testament to making a difference in innovation. 
This multi-reality studio has entertained and engaged millions of users for numerous global brands across augmented reality, gaming and the metaverse. Global sportwear brand Nike launched a smash hit explorable world in Roblox and Plai brought this to life in their flagship 5th Avenue department store via playful games and experiences powered by Snapchat. If it's good enough for Nike…  
Hype is one of the leading web3 community and marketing agencies supercharging web3 ecosystems. I personally love their Metaverse Studio, built to help heritage and emerging brands launch successful metaverse-native projects.  
The Mill are world-renowned specialist in visual effects, creative production & immersive experiences famous for (amongst other things) their partnership with Riot Games. The Mill launched virtual metal band, Pentakill's, new concept album as a live gig, in real-time, captured by 40+ virtual cameras. It deservedly won a Webby award, check them out! 
Adage's 2019 Production Company of the Year, as well as Campaign's 2020 and 2021 Tech Company of the year, Unit9 deserve a noteworthy mention. When it comes to digital innovation, UNIT9 are changing the way consumers consume content. Check out their work with EE in which they delivered the world's first 5G-powered AR foosball tournament, live from Wembley stadium.  
REWIND  (now Magnopus)
Founded in 2011 by Sol Rogers and Matthew Allen, REWIND (now Magnopus) have quickly become a pioneer in the immersive community, delivering award-winning work for global brands including Red Bull, BBC, HBO, Jaguar, Paramount, and Universal Pictures. A testament to their work can be seen in their partnership with Three, augmenting London fashion week with 5G & MR. 
Publicis Poke is an agency passionate about the power of creativity to solve today's commercial challenges and their work speaks for itself. Their campaign with EE, Unbox Gaming on the Go, was an AR experience first of its kind – check it out! 
Dept are the brains behind the World's first 24 hour Meta Festival that brought industry experts and consumers together for the first time to experience the metaverse in all its glory. It would be remiss not to include them on the list. 
FLIPSIDE 
Flipside's most notable metaverse-based project to date, in partnership with big bro Weber Shandwick, helped build an office in the metaverse to re-onboard their staff and introduce new starters. Their virtual office included client rooms, presentation areas and a beach bar - @Ingenuity, where's our beach bar?! 
VAYNER3 powered by Vayner Media  
Vayner3 powered by Vayner Media, who believe in blockchain-based enterprise, are playing an active role in creating the future. NFTs have transformed marketing at Vaynerchuk's media empire. Take their recent work with legendary liquor vendor, Johnnie Walker, in which VeeFriends Gift Goat holders received a special and limited-edition version of Johnnie Walker's blue label whiskey. This personalised activation allowed Johnnie Walker to create a personalised journey for their most loyal and spend-happy customers. Tiering rewards for your most engaged consumers, creates a level of exclusivity that makes others believe they're missing out. Speaking of which, where's my bottle? 
Last, but certainly not least, Journee gets my vote. Making the most beautiful internet for everyone, Journee offers advanced, stylised solutions to enable show-stopping and future-proof metaverses for brands across the board. Check out their recent virtual showroom for fashion powerhouse H&M. Beautiful. 
And there you have it, the agencies making marketing magic in the metaverse. I'm excited to see what these guys have up their sleeves for the coming months and I'll definitely be keeping an ear to the ground for other movers and shakers in this space as we head into 2023.   
If you feel like you know an agency or are an agency that deserves a shout-out, be it on this list or to the brands we work with, we'd love for you to get in touch at Molly.Elvin@ingenuitylondon.com to see how we can partner.    
Subscribe to Ingenuity's content hub
Receive the latest interviews, insights and trends straight to your mailbox.
Want more content?