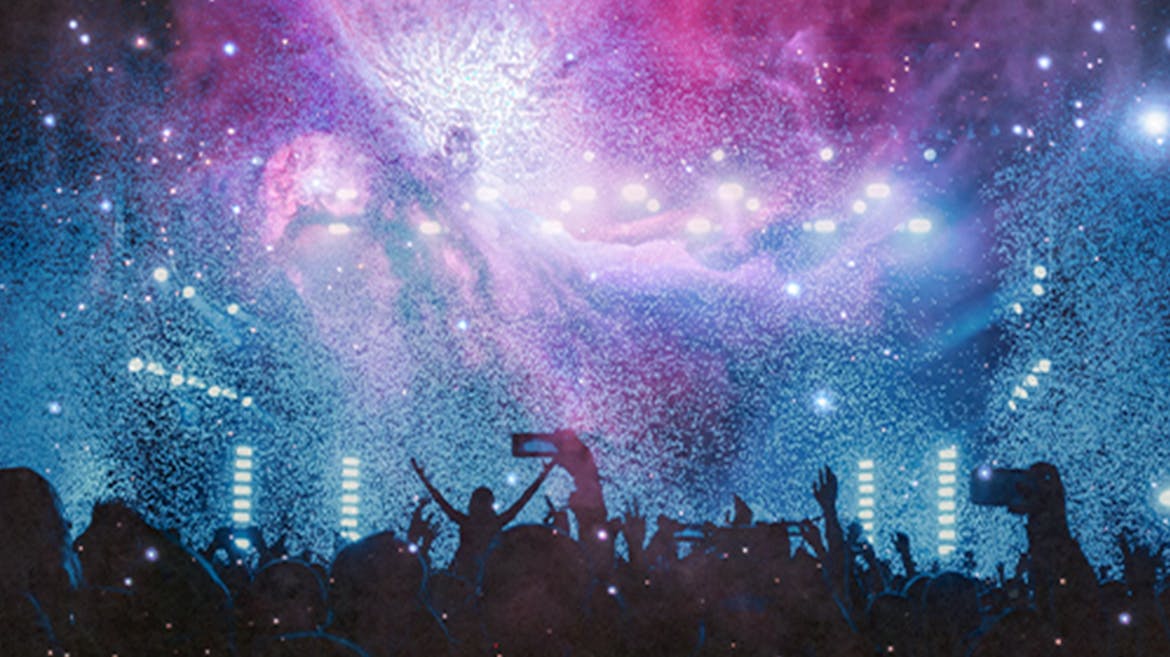 Festival season may be over, but brand activation is back.
Chris Wilson
In the face of the summer season's initial collapse, which began with the decision to reschedule Glastonbury despite their efforts to move 'Heaven and Earth', festival season returned. The window of opportunity for brands looking to build an in-person connection on a level playing field (quite literally), finally reopened after 2 years of music lovers waiting to dance, thrash and stage dive without the risk of infection.  
Isolated zoom and socially distanced car park concerts were suddenly a thing of the past and 2021 festival goers were thrilled to be back. The result? Experiential activations in the form of brand partnerships that felt all that more brilliant…  
The brands returning to innovation post pandemic 
In the planning stages of this years' festival season, the brand sponsors who got it right focused on creating contextual experiences targeted to the audience's wants and needs. Rapid grocery delivery firm Zapp established a temporary dark store at London music festival All Points East, operating as an on-site click & collect service. Festival goers were able to use the app to shop festival essentials such as ponchos and sun cream – shout out to the British weather – which were picked, packed and ready for collection post in-app purchase. As the event's official convenience and grocery delivery partner, Zapp also sponsored a VIP area and offered ticket giveaways and upgrade opportunities, supported by a multi-channel campaign and on-site advertising.  
Unsurprisingly, competitions for product or cash prizes are one of the best ways for music festival sponsors to engage fans alongside free food & drink – who doesn't love a freebie? With wellbeing so high on everyone's agenda post Lockdown 3, this year's guests were impressed with botanicals and superfood snacks from FMCG brands boasting new products. The ultimate opportunity for consumer engagement and feedback. 
Charging stations levelled up this year with whilst-you-wait VR/AR storytelling, and, whilst festival goers were ecstatic to return to pre-pandemic activities, lockdown legend Tik Tok brought the 2020 creator experience to the field in the form of pop-up creator stands.  
Leading brewery group Carlsberg also provided a safe space for festival attendees to lounge around, find solitude and sip a pint or two between acts… nailed it. 
Ingenuity ones to watch: Co-op, Costa Coffee & Superdry created experiences fans loved.  
The team here at Ingenuity have been following grocery brand Co-op in the renewal of its music festival sponsorship deal with Live Nation UK, meaning the 'here for you for life' brand will stay on as the official supermarket sponsor of Download Festival, Latitude Festival, Reading & Leeds Festivals, Creamfields Festival, and the Isle of Wight Festival until 2026. The partnership has allowed Co-op to bring their brand to a younger audience, reaching over 1.4 million live music fans across the 6 festivals. 
Costa Coffee brewed up a hot festival pop up aptly named Costa:LIVE after two years of planning, building and covid stalling and Japanese inspired clothing brand Superdry had a brilliant 2021; not only plotting new oxford street megastore but sponsoring stages and VIP tickets across the country.  
An extra special mention to our clients Strawberries & Creem festival & Cambridge Club to hugely successful events this year. Partnerships were secured across the board with Hennessey, Naughty Water, Rizla and Doritos who championed, with the help of Mother, the Make your play campaign – reinventing the Doritos triangle as a "play" button by flipping it 90 degrees so that consumers could interact and 'Make their Play' via interactive posters to win tickets to the festival, clubs, and live streams. 
The Lost Village still leads the way on the consumer experience 
In 2018, Dishoom joined forces with Lost Village to create their first-ever festival outpost. Known for its aesthetically pleasing decor, first class service, drinks and top chef Naved Nasir's lovingly curated menu, Dishoom satisfied hungry festival goers with their signature dishes – including the cult favourite Bacon Naan Roll at breakfast – yes, you need to try one. Dishoom returned to The Lost Village for a second year of first-class festival feasting in 2019. Hungry music fans enjoyed Dishoom dishes, in a (back then) brand-new late-night Permit Room Bar alongside legendary Dishoom tipples in the presence of a brilliant line-up of South Asian artists.  
Fast forward to 2021 and The Lost Village partnered with family-run business Sabel to deliver The Lost Village Brunch Club. Sabel, who previously partnered with Wilderness Festival, have partnered with some of the most well-known brands and individuals including Ottolenghi, BeatsbyDre and Versace. They've also worked with some of the most exciting chefs and restaurants, including Angela Hartnett, Tom Aitkens and Hawksmoor. 
The idea that the up-market restaurant experience can be enjoyed and enhanced at festivals – goodbye hotdogs and cheesy chips – is in line with the demand for continuously improved consumer experiences across the board.  
Festival owners must diversify their brand partners in 2022 
Festival sponsorship can be a saturated marketed (and that's not just when it's raining). It's a hugely competitive space and to get it right, festival owners must have a spectrum of options for brands to innovate and activate at festivals.  
In 2022 the challenger brand market across multiple sectors will become top heavy. The rights holders that get it right, excuse the pun, will focus on the growth businesses such as Cazoo and Getir, whilst targeting brands with NPDs, new product launches, to ensure the consumer experience improves year on year. Watch this space.
Are you a commercial leader? Hear more about our tried and tested model 
Ingenuity has extensive experience helping right holders and brands develop an effective partnership offering, we can help brands find the right partners by introducing them to our clients or taking over the sales element by driving interest in your proposition. 
See more on Brand Partnerships here and if you're interested in engaging new audiences or developing a new strategic way to market drop me a line at Chris.Wilson@ingenuitylondon.com to discuss. 
Subscribe to Ingenuity's content hub
Receive the latest interviews, insights and trends straight to your mailbox.
Want more content?